WONDERBOOM™ 2
$79.99 $99.99

Free shipping

Simple & easy returns

Easy installment payments

Free shipping

Simple & easy returns

Easy installment payments
Features
Specifications
In the box
Support
Features
Specifications
In the box
Details
WONDER­BOOM™ 2
$79.99 $99.99

1234 reviews
Ultraportable Bluetooth® speaker with a surprisingly bigger sound that's crisp and bassy as all get-out. Now with Outdoor Boost.
Better together
Add a pair of earbuds to the party
Additional features
Easy play, pause, skip
Control your music right from the speaker. Use the big button on top to play, pause, and skip. (Keep scrolling for more on buttons and what they do.)
Vibrant 2-tone knit fabric
Inspired by athleisure, these high-performance 2-tone knit fabrics hit just the right note with a range of stunning colors. They make waves in more ways than one.
Specifications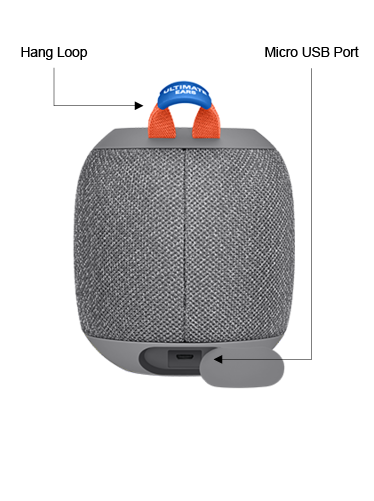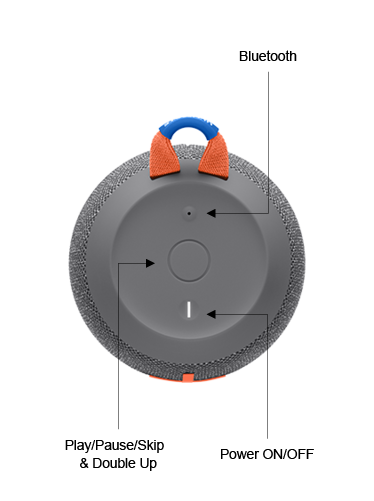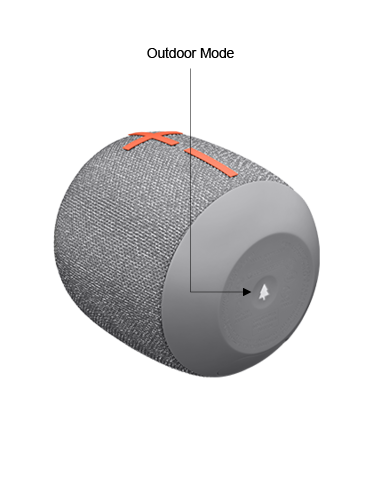 360° sound
Maximum sound level: 86 dBC (standard mode) and 87 dBC (OUTDOOR BOOST mode)
Frequency range: 75 Hz – 20 kHz
Drivers: two 40 mm active drivers and two 46.1 mm x 65.2 mm passive radiators.
Power
Rechargeable lithium-ion battery for up to 13 hours of battery life between micro-USB charges.
Charge time: 2.6 hours (with BC1.2 compliant adapter)
Wireless capabilities
Connect up to 2 source devices simultaneously, wirelessly play (stream) music from either one. Wirelessly play (stream) to 2 WONDERBOOMs from one source. Mobile range - 100 ft (30 m)
Compatibility
For audio playback: smartphones, tablets, and other devices that support Bluetooth® [Advanced Audio Distribution Profile (A2DP)]
Wireless range
Mobile range for music playback is up to 100 ft (30 m)
Dimensions
Height (104 mm) diameter (95.3 mm) weight (420 g) (speaker only)
Warranty
2-year limited hardware warranty
In the box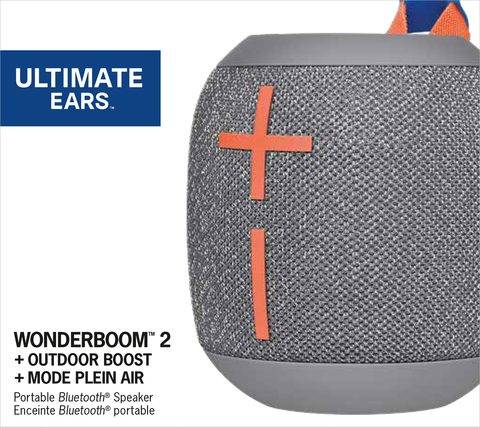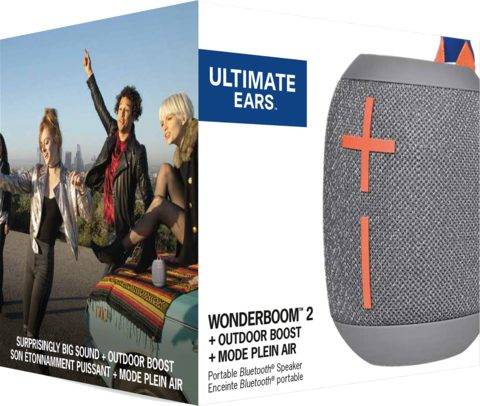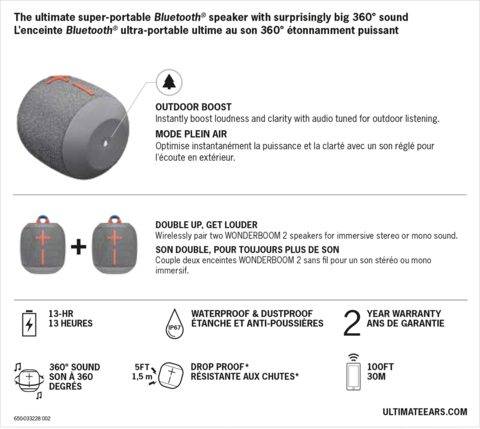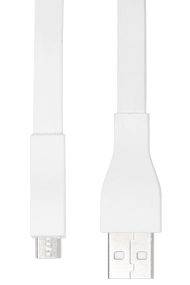 Micro-USB cable
Recharge WONDERBOOM™ 2 via the Micro USB port